Kevin Taylor

Information
Age (at audition)
39; 45
Sex
Male
Act
Martial Artist
Seasons
3, 9
Position Reached
Vegas Round; None
Kevin Taylor, also known as "Big K," was a martial artist (speed brick breaker) act from Season 3 of America's Got Talent. He was eliminated in the Vegas Round. He returned six years later for Season 9, where he was eliminated in the audition round.
Background
Kevin "Big K" Taylor, who is from Warren, Michigan is the world's fastest brick breaker. He was 29 when he signed up for his first karate tournament. A young blue-belt still learning the martial art of jiu jitsu; he was raw, untamed and a ferocious competitor. As quick as he was large, he was a man amongst boys, and the undisputed talk of the tournament. There, he accidentally shattered a man's shoulder with his bare hands.
Kevin Taylor took no happiness in the pain of his foe and decided to step down from competition, afraid it would only lead to a path filled with more injured opponents and more broken shoulder blades. Days after the tournament his sensei suggested he start breaking boards and bricks, so he wouldn't have to hurt his opponents in a sparring ring. "So I went to a tournament stacked up twenty bricks, and broke all twenty of them. But that was pretty boring…I started doing the speed breaking because I wanted to challenge myself more". The rest is history as he would go on to break several world records, reserve a spot in the latest issue of Ripley's Believe it Or Not, and teach dozens of children the art of brick breaking, along with the importance of honor, and respect at his dojo in Warren, Michigan.
Kevin "Big K" Taylor broke 584, 10 lb cement bricks in under one minute. He broke twenty car windows in 95 seconds and On March 27th, He will re break his own record for a third time and exceed 600 cement bricks in 60 seconds. Despite his records, and his status, unlike these other people he keeps his head on his shoulders and doesn't have the demeanor of an obnoxious, untrained puppy, screaming into camera's and acting like a public jackass
Quite literally the face of the sport, he founded the W.S.B.B.A (World Speed Brick Breaking Association) in 2007 and since obtained and held the rank of Grandmaster 10th Dan, a ranking which according to several sources is currently held by less than twenty people worldwide.
In 2009 Kevin Taylor was diagnosed with congestive heart failure, a disease over 5.1 million Americans suffer from today."It happened in April and I had a show to do right after, 100 bricks on fire. I signed a contract, as soon as I got out I did the show. Other than my diet change, it hasn't really affected me." Later that year he would go on to break the world record for longest row of bricks broken with bare hands, 100 yards – 809 bricks. 1
Season 3 Audition
Kevin "Big K" Taylor's audition in Episode 302 consisted of breaking 100 flaming cement bricks in less than 20 seconds with his fists. At one point in the performance, Kevin's hand actually caught on fire. Although Sharon Osbourne voted "No" because she did not want Kevin to get hurt again, Piers Morgan and David Hasselhoff both voted "Yes," sending Kevin to the Vegas Round.
("Danger series!!" Do not try this at home!)
Season 3 Vegas Round
Kevin "Big K" Taylor was one of the Variety Acts in the Vegas Round. He was sorted into the "Extreme Performers" category. His performance in Episode 308 consisted of breaking more cement bricks, this time not only with his palm but also with his foot and even with head strikes. Kevin's audition was not strong enough for the judges to include him in the Top 60, eliminating him from the competition that same episode.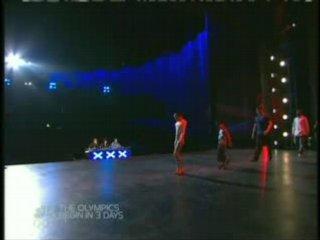 Season 9 Audition
Kevin Taylor returned in Season 9. His second audition in Episode 902 consisted of breaking a car window, 64L Demijohns, and a steel can. Although it did not appear so on the show, Howard Stern and Mel B apparently ended up buzzing the act. The full verdict was not televised, but Howard, Heidi Klum, Mel B, and Howie Mandel all voted "No", eliminating Kevin from the competition.
External Links
Community content is available under
CC-BY-SA
unless otherwise noted.