Laura Dasi was an aerialist act from Season 9 of America's Got Talent. She was possibly eliminated during Judgment Week.
Background
Laura Dasi has been a performing artist for over 30 years. Her exploration of movement began as a young child with gymnastic and classical ballet, leading her to New York City at the age of 17. While there she trained and danced professionally with The Joffery Ballet, Ballet Hispanico and numerous other freelance companies and choreographers. Feeling satisfied in her professional career after 7 years, she took a hiatus from the stage and became a mother to a daughter then a son. In 1998 she moved to Northern California where she began to study Vinyasa yoga and eventually became a certified instructor. Upon returning to San Diego in 2002 she began teaching yoga full time. Wanting to reignite her love for dance, Laura began studying Samba and Belly Dance. She returned to the stage in 2007, appearing with Danyavaad & The Shimmy Sisters in their Middle Eastern themed theatrical shows.
During the past 4 years, Laura has been living with Alopecia, an autoimmune disease in which the body attacks one's hair follicles. At first the process was extremely difficult and scary. Moving through the pain associated with this loss, Laura has come to a place of surrender and acceptance of this unique condition. In January 2011, Laura ventured into circus arts, mainly aerial silks, and felt an immediate natural inclination with this new apparatus. Drawing upon her experience in dance and yoga her skill level grew quickly. Laura now thrills audiences with her daring display of strength, agility, grace and passion while suspended high above the ground. Often described as "ballet in the air" Laura feels aerial arts is where she truly excels and that she has found the perfect form of expression.
Laura currently performs throughout southern California with Aerial Revolution Entertainment and Nomad Artz at private events, weddings, corporate functions and music festivals. Her skills include aerial silks, lyra (aerial hoop), contortion, fire arts and belly dancing. She also offers group classes and private instruction in yoga, dance and aerial arts in San Diego, CA. 1
Audition
Laura Dasi's audition in Episode 903 consisted of performing acrobatic feats such as spinning on the Aerial Silk to John Legend's "All of Me." Howard Stern, Heidi Klum, Mel B, and Howie Mandel all voted "Yes," sending Laura to Judgment Week.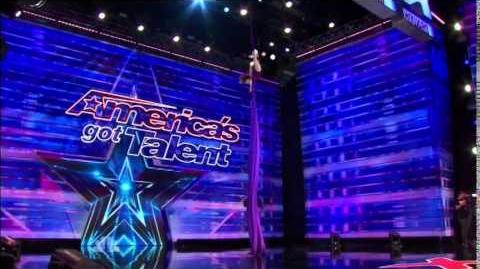 Judgment Week
It is unknown whether or not Laura Dasi was present during Judgment Week as she was never seen, but even if she was, she did not advance to the Quarterfinals.
External Links