Lulu was a pole dancer from Season 7 of America's Got Talent. She was eliminated in the audition round.
Background
Dancing her whole life, for Lulu it's become her passion. Being athletic her whole life from playing softball, field hockey and even being a competitive cheerleader for ten years, staying active has always been part of her life. After high school, Lulu stopped dancing and focused on her future broadcasting career by attending the famous Broadcasting Institute of Maryland. She obtained her diploma in TV Production in 2004. She also become a mom to a little girl in 2004. Giving everything she had to her little girl, Lulu lost herself. She didn't know who she was.

In 2006, she finally decided it was time to find herself again. She went back to the hobby that made her the happiest - dance. Wanting to find something different from traditional dance classes, she took an intro-to-pole class instead at Xpose Fitness. From there, it was hook, line and sinker and she became a pole fanatic! She started to find herself again, lost the baby weight and then some and discovered some of the best people in the world. In 2008, she decided to take her pole skills to the next level by competing. She competed in the first Ms Xpose Fitness Prelimnary rounds. She missed advancing to the final round by one point. This hurt her feelings but was still proud of what she put on. She took her videos of her performances and posted them on YouTube. From there she opened this market of plus sized pole dancers, something the world had never seen. 1
Audition
Lulu's audition in Episode 707 consisted of pole dancing to "I Just Want to Make Love to You," ending with a drop split. Howard Stern and Sharon Osbourne both buzzed the act. Although Howie Mandel voted "Yes," Stern and Osbourne both voted "No," eliminating her from the competition. After her audition, Nick Cannon joined her on stage in a duct-tape bikini, and pole danced with her.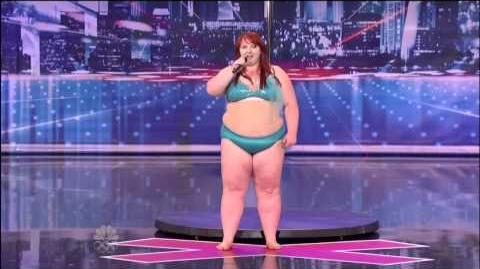 External Links