Matthew Piazzi was a impressionist from Season 3 of America's Got Talent. He was eliminated in the Quarterfinals.
Background
Matthew Piazzi has been a New Yorker by geography, and a Cape Girardean by DNA. His mother, Judith Farris, is Cape Girardeau born and raised. She spent much of her life in New York pursuing a career in music before moving back to Cape Girardeau recently to take a position as a vocal music instructor with Southeast Missouri State University. Along the way, her son Matthew developed strong ties to the town in flyover country he calls his second home. He's a successful voiceover artist, as well as a singer in New York City. 1
Matthew Piazzi has music talent as well as impressionist talent; he is the lead vocal of a New York band known as The Debonairs. 2
Audition
Matthew Piazzi's audition in Episode 307 consisted of impersonating celebrities such as Jack Nicholson. David Hasselhoff and at least one other judge voted "Yes," sending Matthew to the Vegas Round.
Vegas Round
Matthew Piazzi was one of the Variety Acts in the Vegas Round. His performance in Episode 308 was not fully televised, but it consisted of impersonating Robert De Niro if he were performing a mime act. Matthew's audition was strong enough for the judges to include him in the Top 60 shortlist and to later send him to the Top 40 Quarterfinals in Episode 309.
Quarterfinals
Matthew Piazzi's Part 3 Quarterfinals performance in Episode 312 consisted of singing "Great Balls of Fire" while impersonating the voices and mannerisms of Arnold Schwarzenegger, Jack Nicholson, Vince Vaughn, and George Clooney and playing the piano. Piers Morgan buzzed the act. Matthew did not receive enough votes to be sent to the Semifinals, eliminating him from the competition in Episode 313 instead of Joseph Hall.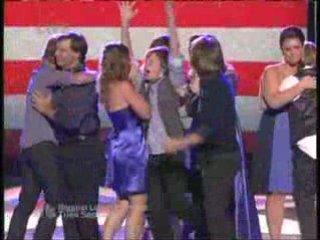 External Links