Mileece

Information
Age (at audition)
36
Sex
Female
Act
Plant Instrumentalist
Seasons
9
Position Reached
None
Mileece was a plant instrumentalist act from Season 9 of America's Got Talent. She was eliminated in the audition round.
Background
Mileece was born in 1978 in London. Her family, running a pioneering recording studio, Freerange and video promo company RockFlicks, exposed Mileece to artists and a/v production from the get-go certainly playing a pivotal role in the development of her interests and talent as an artist.
Mileece's early involvement in sound continued evolving from childhood violin lessons and Casio workstation compositions to improvised piano, hosting a jazz radio show and DJ'ing at clubs by her teens. But her peripatetic life that took her from rural French farms, to crystal gardens in Los Angeles, prompted her awareness to the many forms of man's impact on the natural world. Hence, congruent to her pursuits in music, Mileece completed A-Levels in environmental science and economics, an A.A. in documentary filmmaking and worked for several environmental agencies.
Just before turning twenty, Mileece returned to the UK where she undertook courses in sound engineering and received a B.A. in Sonic Art. At 24, using Super Collider, an object-oriented music programming language, Mileece released a series of compositions inspired by cycles and formations in nature as her debut album "Formations". Shortly thereafter, she toured with bands Múm, Mice Parade and HIM, playing live generative compositions via her custom made interactive instruments.
In 2004, Mileece was commissioned by BOX, the EDS Innovation Centre at the London School of Economics, to create a participatory-based interactive generative harmonic sonic art composition and interface. The success of this project led to her invitation as BOX artist in residence during which Mileece designed and installed the first prototype of her plant biofeedback system that enables plant bio-emissions to be transformed into a lush and complex harmonic soundscape. In tandem with the original people oriented interface design, these two systems combine to form an aesthetically oriented interspecies sound improvisation system.
Mileece currently resides between London and France where she is further developing the complexity, resolution and scope of this system to include planets and particles, live visual elements, and generally an ever-increasing articulacy of plant/man/environment interaction, within the P* project series (People, Plants, Planets & Particles). She is also continuing work on her second album and has upcoming releases on Planet-Mu and Fat-Cat records. 1
Audition
Mileece's audition in Episode 905 consisted of performing live generative music with plants. Howard Stern buzzed the act. Howard, Heidi Klum, Mel B, and Howie Mandel all voted "No," eliminating Mileece from the competition.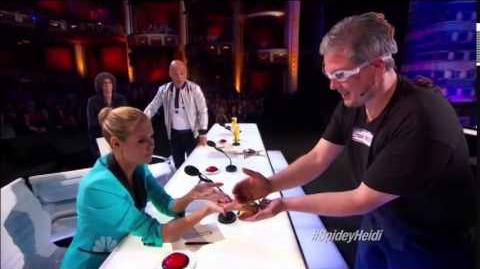 External Links
Community content is available under
CC-BY-SA
unless otherwise noted.