Nikki Jensen was a singer and guitarist act from Season 7 of America's Got Talent. She was eliminated in the Quarterfinals.
Background
Nikki began playing guitar and writing songs two and half years ago, but in that short time the Australian-born singer/songwriter has charmed the likes of His Royal Highness Prince William during his tour for Far North Queensland Cyclone victims. Early in her career, Nikki's unique folk/pop style caught the eye of Australian pop/country queen Kasey Chambers during a national competition final. Chambers then invited Nikki to play on stage with her during the Tamworth Country Music festival and subsequently to record her debut EP with her and husband Shane Nicholson in June 2011. Since recording, the songstress has played alongside Triple J and French Kiss' Emma-Louise, Adam Harvey, Shane Nicholson and Kasey and Bill Chambers.
After long wishing to move to the United States, Nikki entered the Greencard lottery in 2009 and won. She become a permanent resident of the US, fullfilling her lifelong dream of persuing a music and TV Career in the America. Nikki's debut EP 'Under the Rain Tree' was released to positive reviews in August 2011, and her music video for the single 'Hypotheticals' can been seen on Landed Music, CMC and YouTube . She is also a TV journalist and presenter.
Audition
Nikki's audition in Episode 708 consisted of singing "Moon River" while playing the guitar. Although Howard Stern voted "No," Sharon Osbourne and Howie Mandel voted "Yes," sending her to the Vegas Round.
Vegas Round
Nikki Jensen was one of the Judges' Favorites in the Vegas Round. She was sorted into the "Female Singers" category. Her performance in Episode 711 consisted of singing "You Can't Always Get What You Want" while playing guitar. Her audition was strong enough for the judges to send her to the Quarterfinals in Episode 712.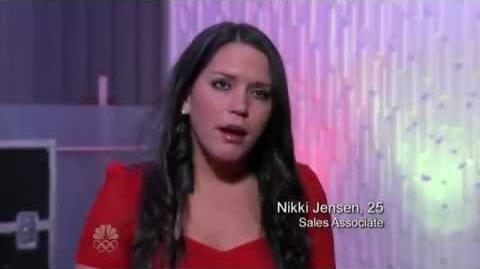 Quarterfinals
Nikki Jensen's Quarterfinals performance in Episode 714 consisted of singing her version of Coldplay's "The Scientist" without a guitar for the first time in the competiton. She did not receive enough votes to be sent to the Semifinals, eliminating her from the competition in Episode 715 along with Michael Nejad, instead of Shanice & Maurice Hayes.
Trivia
Nikki Jensen was the only act in the "Female Singers" category in Las Vegas to progress to the Quarterfinals.
External Links
Season 7 Vegas Round

Uncategorized
Judges' Favorites
Standby Acts
Withdrew
Disqualified
Season 7 Quarterfinals

3 • 4 • 5 • 6 • 7 • 8 • 9 • 10 • 11 • 12 • 13 • 14 • 15 • 16

Week 1
Week 2
Week 3
Week 4
YouTube
Wild Card