Nina Burri

Information
Age (at audition)
36
Sex
Female
Act
Contortionist
Seasons
9
Position Reached
Quarterfinalist
Nina Burri was a contortionist act from Season 9 of America's Got Talent. She was eliminated in the Quarterfinals.
Background
Nina Burri is contortionist, dancer and model. Born in Berne, Switzerland as second daughter of a non-artist family, she started with ballet lessons at the age of six. Her first stage appearance was four years later accompanied with intensive training in further dance styles such as modern dance, jazz and tap dancing as well as singing and acting classes. But at 15, the young dancer decided to risk all on ballet and besides high school, also attended the ballet academies in Basle and Graz until in 1995 she was accepted at the famous "Staatliche Ballettschule Berlin" [State Ballet Academy Berlin] where she graduated three years later with a diploma as "Staatlich geprüfte Bühnentänzerin" [State registered Stage Dancer].
Up to this point her career was anything but simple: an untiring search for the best training possibilities and catching up with dance techniques that were incorrectly taught in her younger years are features for these first steps in the world of ballet. It was also a race against time, because Nina was already 21 years of age when she joined Maurice Béjart's "École-Atelier Rudra Béjart" in Lausanne. Yet, two years later and after many completed tours both local and in other countries even with the "Béjart Ballet Lausanne" she left Switzerland to take up her first role as ballet dancer at the "Staatstheater Saarbrücken" in Germany.
This was the start of her career as a professional dancer. In the following years she danced in famous theatres throughout the world such as the "Bal du Moulin Rouge" in Paris, in many TV shows in Germany and Switzerland and with companies in Israel, Berlin and Tokyo. In-between she also worked as a model.
Yet in 2007, at the age of 30, Nina, always a great circus fan, decided to develop her own acrobatic solo number. In Beijing in China she found the "International Art School", the acrobatic academy of the "China Acrobatic Troupe" in which she learnt the art of contortion. There, for six months, she worked eight hours a day at handstand techniques and flexibility. Back in Europe she developed a first choreography made up of dance and the newly acquired unusual agility, took part in artist competitions in order to become known in the circus world and, shortly thereafter obtained her first engagement as a contortionist.
Nina created a further number that she called "Goldeneye", a homage to James Bond and with this achieved the jump into well known varieties and circus shows and in 2009 won the Swiss competition "Kleiner Prix Walo" for new talent. The final breakthrough to international renown was achieved in 2011 with the second place in the show "Die grössten Schweizer Talente" [Switzerland's Got Talent] and the final place in the French variant of this TV show, "La France a un Incroyable Talent" in the same year.
The fashion scene, too, has not failed to recognize the "Snake Lady", as she has since become known, and Nina has worked together with star photographers such as Peter Lindbergh for "Vogue". From March till November 2013 she was on tour for a season with the Swiss National Circus Knie. 1
Audition
Nina Burri's audition in Episode 905 consisted of contorting her body in different ways to Sia's "Chandelier." Howard Stern, Heidi Klum, Mel B, and Howie Mandel all voted "Yes," sending Nina to Judgment Week.
Judgment Week
Nina Burri was not seen during Judgment Week. Whether she advanced straight to the Quarterfinals or she performed for the judges again is unknown, but nevertheless, she progressed to the Quarterfinals.
Quarterfinals
Nina Burri's Week 4 Quarterfinals performance in Episode 915 consisted of body contortion feats such as performing handstands and touching her head with her feet, all to Banks' "Waiting Game." Nina did not receive enough votes to be sent to the Semifinals, eliminating her from the competition in Episode 916.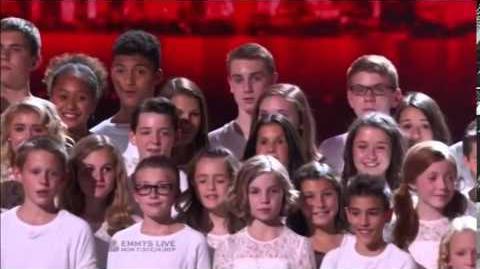 External Links
Season 9 Quarterfinals

Week 1
Week 2
Week 3
Week 4
Wild Card
Community content is available under
CC-BY-SA
unless otherwise noted.