Olate Dogs

Information
Age (at audition)
19, 55
Sex
Male
Act
Dog Act
Seasons
7
Position Reached
Winner
Olate Dogs was a dog group act from Season 7 of America's Got Talent. It was the winner of the competition, winning $1,000,000 and the headlining of a show at The Palazzo.
Background
The Olate Dogs is a high-energy, fast-paced dog act filled with pet tricks led by Richard Olate, 55, and his son Nicholas Olate, 19. Richard grew up in South America in a poor family. A third generation circus performer, Richard has performed since he was 12, and through hard work and constant struggle, he made it to the United States at the age of 33. His dream is to have his own dog variety show, and he currently has four completely different dog acts. Most of Richard's dogs are rescues from shelters. 1
Audition
The Olate Dogs' audition in Episode 703 consisted of labradoodles hopping over metal poles, standing and rotating on their hind legs, standing on their fore legs, forming a conga line, jump-roping, and performing backflips. Howard Stern, Sharon Osbourne, and Howie Mandel all voted "Yes," sending the act to the Vegas Round.
Vegas Round
Olate Dogs was one of only three acts (the other two being David "The Bullet" Smith and William Close) to advance straight to the Quarterfinals in Episode 711 without auditioning in Las Vegas.
Quarterfinals
Olate Dogs's Quarterfinals performance in Episode 720 consisted of dogs spinning in circles, hopping over small obstacles, balancing on a hollow cylinder being rolled by another dog, sliding down a slide, walking up and down stairs, running and rolling over quickly, and performing backflips all to the song "Played Alive (The Bongo Song) by Safri Duo. The act received enough votes to be sent to the Semifinals in Episode 721 instead of David "The Bullet" Smith and Ulysses.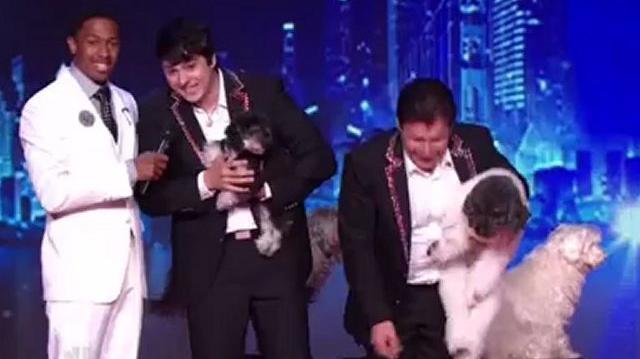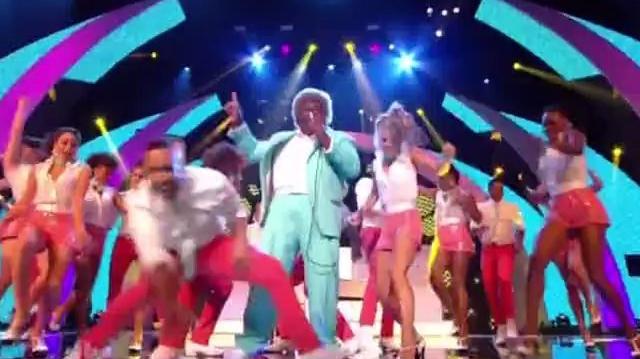 Semifinals
Olate Dogs' Semifinals performance in Episode 728 consisted of dogs leaping over metal poles, jump roping, spinning, forming a conga line, riding a scooter, performing back flips, and participating in a cycle of rolling and hopping with the two human trainers of the group. The group received enough votes to be revealed as one of the Top 4 of the second Semifinal round instead of All Wheel Sports and Clint Carvalho & His Extreme Parrots. Olate Dogs was later revealed in Episode 729 to be one of the Top 2 of the second Semifinal round, immediately sending it to the Finals.
Finals
The Olate Dogs' Finals performance in Episode 730 consisted of a dog riding in a small car, a dog hopping, a dog spinning in circles, a dog rolling over, a dog hopping over obstacles, and a dog rolling on a hollow cylinder, and finally two dogs walking over the judges' desk together.
Finale
For the finale in Episode 731, Olate Dogs performed dog tricks in a duet with Frankie J. Olate Dogs was revealed to have finished in first place in the competition that same night, over Tom Cotter, William Close, David Garibaldi and His CMYK's, Joe Castillo, and The Untouchables, winning one million dollars and a headline show in Las Vegas.
After the Show
Olate Dogs made a guest appearance on Season 8 of America's Got Talent in Episode 825.
Trivia
Olate Dogs is the first animal act in the history of America's Got Talent to reach the Finals, and also the first to win America's Got Talent.
Since the show has started using the present Vegas Round format, Olate Dogs is the first winning act to have automatically proceeded to the live shows without having to audition in Vegas.
Olate Dogs is the first (and currently only) non-solo act to win America's Got Talent.
Olate Dogs is the first act to win that is not a singing act.
Richard is the oldest AGT winner while Nicholas is the youngest male winner.
External Links
Season 7 Vegas Round

Uncategorized
Judges' Favorites
Standby Acts
Withdrew
Disqualified
Season 7 Quarterfinals

Week 1
Week 2
Week 3
Week 4
YouTube
Wild Card
Season 7 Semifinals

Week 1
Week 2
Community content is available under
CC-BY-SA
unless otherwise noted.