One Voice Children's Choir

Information
Age (at audition)
6-18
Sex
Mixed
Act
Choir
Seasons
9
Position Reached
Quarterfinalist
One Voice Children's Choir was a choir act from Season 9 of America's Got Talent. It was eliminated in the Quarterfinals in the Judges' Choice.
Background
The 100-member One Voice Children's Choir began as the 2002 Winter Olympics Children's Choir, comprised of volunteer children and organized for the purpose of promoting the XIX Olympic Winter Games held in Salt Lake City, UT. Their theme song, "It Just Takes Love," is featured on Light Up the Land: A Commemorative CD of the 2002 Olympics. Many of the members of the choir participated as Children of Light in the Opening and Closing Ceremonies.
After the 2002 Winter Olympic Games were over and the Olympic flame was extinguished, the children of the Winter Olympics Children's Choir desired to continue singing together. In response to the children's wish, Masa Fukuda, conductor and composer of "It Just Takes Love," obtained help from supportive parents to establish One Voice Children's Choir as a non-profit organization.
One Voice Children's Choir is comprised of children ages four through seventeen who live in northern Utah along the Wasatch Front, Park City area, and Heber Valley. The choir meets year-round and performs over 50 times each year.
One Voice Children's Choir has received numerous awards in the recording industry including the prestigious John Lennon International Music Award, presented by Yoko Ono and George Martin, producer of The Beatles. This past year, the choir received the 2014 Best of State Award for Best Children's Performing Group, as well as the BOSS statue for the most outstanding medal winner in the Arts and Entertainment division. Additionally, the choir has performed for numerous dignitaries including Vice President Dick Cheney, Presidential Republican nominee Mitt Romney, Senator Orrin Hatch, Ambassador to China and Presidential candidate John Hunstman Jr., philanthropist and humanitarian John Huntsman Sr., and The Church of Jesus Christ of Latter-Day Saints Presidents Gordon B. Hinckley and Thomas S. Monson as well as members of the Quorum of the Twelve Apostles. 1
Audition
One Voice Children's Choir's audition in Episode 905 consisted of singing Ellie Goulding's "Burn." Although Howie Mandel voted "No," Howard Stern, Heidi Klum, and Mel B (at the begging of Howard) voted "Yes," sending the group to Judgment Week.
Judgment Week
One Voice Children's Choir was not seen during Judgment Week. Whether it advanced straight to the Quarterfinals or it performed for the judges again is unknown, but nevertheless, it progressed to the Quarterfinals.
Quarterfinals
One Voice Children's Choir's Week 4 Quarterfinals performance in Episode 915 consisted of singing "Let It Go" from Frozen. The choir finished in either fifth or sixth place in America's Vote. In the Judges' Choice, Howard Stern, Mel B, and Howie Mandel all did not vote for it, eliminating the group from the competition in Episode 916 instead of Kelli Glover.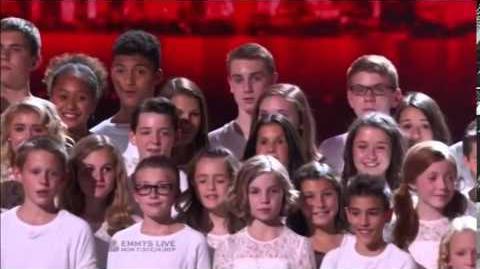 External Links
Season 9 Quarterfinals

Week 1
Week 2
Week 3
Week 4
Wild Card
Community content is available under
CC-BY-SA
unless otherwise noted.