Paul Ieti

Information
Age (at audition)
21
Sex
Male
Act
Singer
Seasons
9
Position Reached
Semifinalist
Paul Ieti was a singer act from Season 9 of America's Got Talent. He was eliminated in the Semifinals.
Background
Paul Ieti is from American Samoa, but he is stationed in Georgia as a U.S. Army private first class. He grew up singing in a church. Recently, at a deployment in Afghanistan for nine months, his "battle buddies" would ask him to sing for them as a means of escaping temporarily from the reality of war.
Audition
Paul Ieti's audition in Episode 904 consisted of singing Rihanna's "Stay." Howard Stern, Heidi Klum, Mel B, and Howie Mandel all voted "Yes," sending Paul to Judgment Week.
Judgment Week
Paul Ieti was sorted into the "Male Singers" category in Judgment Week. His performance in Episode 908 consisted of singing Rascal Flatts' "Bless the Broken Road." The judges were so impressed that they opted to send Paul to the Quarterfinals immediately.
Quarterfinals
Paul Ieti's Week 3 Quarterfinals performance in Episode 913 consisted of singing his rendition of One Direction's "You & I." Paul received enough votes to be sent to the Semifinals in Episode 914 instead of Anna Clendening.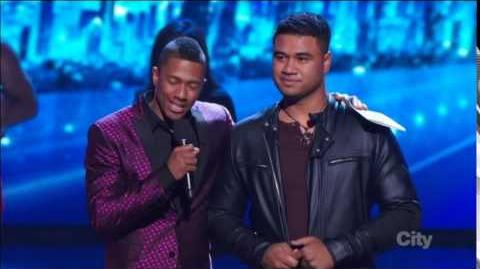 Semifinals
Paul Ieti's Week 1 Semifinals performance in Episode 917 consisted of singing The Backstreet Boys' "I Want It That Way." Paul did not receive enough votes to be sent to the Top 12 Finals, eliminating him from the competition in Episode 918 along with Dan Naturman, instead of Miguel Dakota.
External Links
Season 9 Judgment Week

Immediately Moved On
Performed, Day 1
Performed, Day 2
Moved On (Untelevised)
Season 9 Quarterfinals

3 • 4 • 5 • 6 • 7 • 8 • 9 • 10 • 11 • 12 • 13 • 14 • 15 • 16

Week 1
Week 2
Week 3
Week 4
Wild Card