Popovich Comedy Pet Theater

Information
Sex
Mixed
Act
Animal Act
Seasons
2, 9
Position Reached
Semifinalist; None
Popovich Comedy Pet Theater was an animal act from Season 2 of America's Got Talent. It was eliminated in the Semifinals. Anastasia Popovich returned by herself in Season 9 as a cat act, seven years later. There, the act was eliminated in the audition round.
Background
The World Famous Popovich Comedy Pet Theater is a family-oriented blend of the comedy and juggling skills of Gregory Popovich, and the talents of his performing pets. Each of the show's 15 cats and 10 dogs were once strays, rescued from animal shelters. Now, they love to show off onstage - by performing a variety of stunts and skits.
Gregory Popovich, winner of many international circus competitions, and his furry friends, have brought their Comedy Pet Theater to Las Vegas after a world tour of more than 20 countries. 1
Season 2 Audition
Popovich Comedy Pet Theater's audition in Episode 202 consisted of trained cats performing such  tricks as climbing up and across poles, and jumping through hoops. Piers Morgan buzzed the act, although only to put some pressure on one of the cats to see how it would react. In the end, Piers, Sharon Osbourne, and David Hasselhoff all voted "Yes", sending the act to the Vegas Round.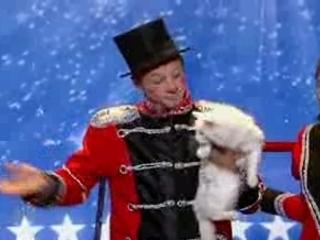 Season 2 Vegas Round
Popovich Comedy Pet Theater was sorted into the "Variety" category during the Vegas Round. Its performance in Episode 205 consisted of dogs being balanced on the trainer's hand and jump-roping. The act's audition was strong enough for the judges to send it to the Semifinals in Episode 206.
Season 2 Semifinals
Popovich Comedy Pet Theater's Semifinals performance in Episode 208 consisted of performing an act called "The Homeless Clown," which involved one cat, one dog, and a number of ferrets. At the end of the act, the cat pushed the dog, which was in a stroller, across the stage. Piers Morgan buzzed the act. The act did not receive enough votes to be sent to the Top 10, eliminating it from the competition in Episode 209
Season 9 Audition
Popovich Comedy Pet Theater returned in Season 9 as a cat act and with Anastasia Popovich, the daughter from Season 2, being the lead trainer. The group's second audition in Episode 902 consisted of tricks such as a cat leaping through a hoop and a cat climbing across two bars. The verdict was not televised, but although Howard Stern and Mel B voted "Yes", Heidi Klum and Howie Mandel voted "No", eliminating them from the competition.
Trivia
Popovich Comedy Pet Theater was the second act to make the lives shows in one season and be rejected in a future season with Drew Thomas Magic being the first they were followed by Elektro Botz and Erik and Shelly Linder both from Season 16.
External Links