Pup

Information
Age (at audition)
7, 58
Sex
Male
Act
Dog and Singer
Seasons
5
Position Reached
Quarterfinalist
Pup was an accordion-playing dog and singer act from Season 5 of America's Got Talent. It was eliminated in the Quarterfinals.
Background
Pup was seven years old at his audition and had only been playing accordion for three years. His talent comes from being around a musical family the Smiley Mountain Band. From a very young age, six weeks old, Pup started ear training. He has never read music and plays everything by ear. He can play all styles of music. He loves working his bellows and has developed his own technic.
Pup performs at CA bluegrass festivals with Smiley Mountain. Also, he performs regularly at the local Sierra Sky Ranch Steakhouse & Inn in Oakhurst for bus tour groups from all around the world. He knows lots of other tricks: High five, Bow, Wave, Whisper & Speak, Jump through hoop, Toss hat, Walk Backwards and Crawl. 1
His owner bought him for only 50 dollars from an advertisement in a newspaper. The pair are from Oakhurst, California.
Audition
Pup (or rather, his owner) submitted his audition onto YouTube. The audition consisted of Pup playing the accordion while his owner sang "Jambalaya" while playing the guitar. His audition was strong enough for the judges to send him to the Quarterfinals along with eleven other YouTube Acts.
Quarterfinals
Pup's Quarterfinals performance in Episode 521 consisted of Pup playing the accordion while his owner sang "Ghost Riders in the Sky" while playing the guitar. Unfortunately, Pup's strap used to play the accordion snapped early in the performance, forcing his owner to sing and play alone while Pup walked around. Because of this, Piers Morgan buzzed the act. Pup did not receive enough votes to finish in at least fifth place in America's Vote, eliminating him from the competition in Episode 522 along with Austin Anderson and Pizza Patt, instead of Maestro Alexander Bui.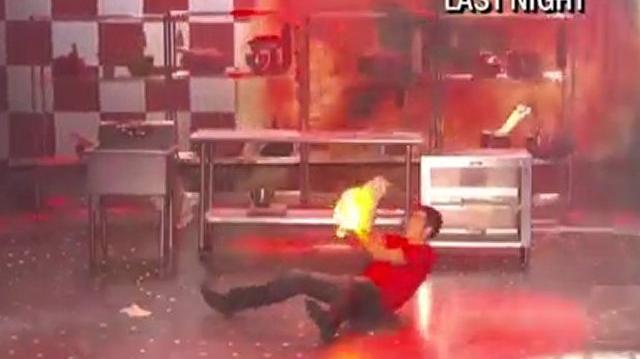 External Links
Community content is available under
CC-BY-SA
unless otherwise noted.