Rachel Butera was a comedic impressionist act from Season 9 of America's Got Talent. She was eliminated during Judgment Week.
Background
Rachel Butera is a stand-up comedian, impressionist and writer from New Jersey. She moved to Los Angeles when she was 39, and she currently still lives there. In addition to voicing animation, commercials, tv, movies and audiobooks, she has appeared on the Howard Stern Show as an impressionist. 1
Audition
Rachel Butera's audition in Episode 904 consisted of performing a comedy routine about space exploration while impersonating the voices and mannerisms of Wanda Sykes, Rosie O'Donnell, Whoopi Goldberg and Joan Rivers. Heidi Klum, Mel B and Howie Mandel (Howard Stern was not allowed to vote because he had previously hosted Rachel on his radio show) all voted "Yes," sending Rachel to Judgment Week.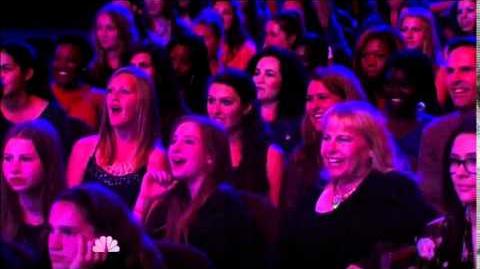 Judgment Week
Rachel Butera was sorted into the "Comedians" category in Judgment Week. Her performance in Episode 907 was not televised (she was sighted with her competition). Rachel's performance was not strong enough for the judges to send her to the Quarterfinals, eliminating her from the competition along with Joe Matarese.
She was also spotted with Terry from Dustin's dojo
After the Show
Butera would later provide the voice for Alexis Beekler on the FOX animated sitcom, Golan the Insatiable and Leia Organa in Star Wars Resistance.
External Links
Season 9 Judgment Week

Immediately Moved On
Performed, Day 1
Performed, Day 2
Moved On (Untelevised)