Sandou Trio Russian Bar

Information
Age (at audition)
25-43
Sex
Mixed
Act
Russian Bar/Singing Act
Seasons
6
Position Reached
Semifinalist
Sandou Trio Russian Bar was a Russian Bar and singing act from Season 6 of America's Got Talent. It was eliminated in the Semifinals.
Background
Cassie Sandou was born in Price, Utah to John and Shelly Craig. She is the middle of five children. Even at an early age, Cassie's talents began to ripen. At the age of four, Cassie started taking piano lessons and soon after became a concert pianist competing and performing for large audiences. Cassie's father served in the Air Force, which gave her the wonderful opportunity to travel the country and live in many different states, which helped improve her talents further and allowed her to meet many people who influenced her life so greatly. While living in California, Cassie found her next truest love, gymnastics. At the age of eight, Cassie began her training and continued her training all the way through the next four states she moved to and to college.
Along with her gymnastics, Cassie loves to sing with her family. Music is such a big part of Cassie and her family's life. After having to move from Mississippi because of Hurricane Katrina, Cassie's family was transferred to San Antonio, TX. While living there, Cassie met her husband, Konstantin, who was performing in the same show at an amusement park. The following year, Cassie moved to Las Vegas where Konstantin and his brother Sergei helped her put together their Russian Bar act. In less than two months, Cassie put together three main acts: Russian Bar, Aerial Silks and Aerial Lyra and began performing right away. Cassie has had the opportunity to perform all over the world. In 2009, Cassie and the Sandou Trio performed with Britney Spears and her Circus Tour that traveled all over the world. Cassie loves to perform (especially with her family) and wants to inspire others to shoot for their dreams. 1
Audition
Sandou Trio Russian Bar's audition in Episode 603 consisted of two of the trio carrying the Russian Bar while the third of the trio performed acrobatic flips in the air and landed on the bar Piers Morgan, Sharon Osbourne and Howie Mandel all voted "Yes," sending it to the Vegas Round.
Vegas Round
Sandou Trio Russian Bar was one of the Standby Acts in the Vegas Round. It was sorted into the "Danger Acts" category. Its performance in Episode 612 consisted of the Russian Bar again, only with the jumper holding two flaming batons. Its audition was strong enough for the judges to send it to the Quarterfinals along with Smage Bros. Riding Shows.
Quarterfinals
Sandou Trio Russian Bar's Quarterfinals performance in Episode 613 consisted of the Russian Bar again, only with a bed of nails and fire lying underneath the bar. The act received enough votes to send it to the Semifinals in Episode 614 instead of J. Chris Newberg and Squonk Opera.
Semifinals
Sandou Trio Russian Bar's Semifinals performance in Episode 625 consisted of singing Monica's "Angel of Mine" while playing a piano rotating until upside-down. Piers Morgan buzzed the act, calling it the "biggest suicide mission we've ever had on the show." The act did not receive enough votes to finish in at least sixth place in America's Vote, eliminating them from the competition in Episode 626 along with Matt Wilhelm and Zuma Zuma, instead of Team iLuminate.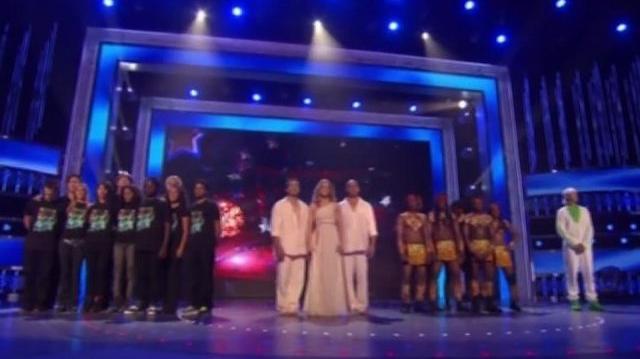 After The Show
Sandou Trio Russian Bar were featured in the movie The Greatest Showman. They are now part of the cast of the new show Celestia, which also features fellow AGT alumni Sergey and Sasha and Deadly Games.

Trivia
External Links
Community content is available under
CC-BY-SA
unless otherwise noted.