Scott Land

Information
Age (at audition)
45
Sex
Male
Act
Puppeteer
Seasons
3
Position Reached
Vegas Round
Scott Land was a puppeteer act from Season 3 of America's Got Talent. He was possibly eliminated in the Vegas Round.
Background
Scott Land's seasoned performing skills are on display in nearly every scene of Paramount Pictures' Team America: World Police. During the making of the movie—the most expensive puppet-driven feature film ever produced—Scott did more than pull the strings on dozens of lead characters. Throughout the 4 months of shooting, Land lent his expertise to director/producers Trey Parker and Matt Stone who, shot by shot, relied on his 25 years of marionette experience to help them create their landmark film. Other screen credits include Disney's The Princess Diaries 2, for which he created and performed a Julie Andrews look-alike marionette, seen on the Special Features section of the DVD. His other TV and film credits include Pee Wee's Playhouse, The Ben Stiller Show, Still Breathing, Shakes the Clown and Rodney Dangerfield's Birthday Bash.
Equipped with the skill, experience and a natural business sense, The Scott Land Marionettes opened for business in 1985. Since then, Land has performed some 10,000 shows worldwide at theatres, convention centers, theme parks, corporate events and on cruise lines. Scott has entertained at more celebrity private parties than any other puppeteer.
His clientele reads like a "Who's-Who" list of Hollywood: Sylvester Stallone, Barbra Streisand, Steven Spielberg, Whoopi Goldberg, Arnold Schwarzenegger, Clint Eastwood, Pee Wee Herman, Tom Hanks, Rod Stewart, Meg Ryan and many more. Scott has himself experienced the limelight having acted in dozens of national television commercials--without puppets—a little known fact. And he is one of a few marionette artists to be invited to perform at the legendary Magic Castle in Hollywood. In 2006, he traveled to Tibet and gave a special performance for the Dalai Lama, delighting his Holiness with a "mini-me" marionette version of himself. 1
Audition
Scott Land's audition in Episode 301 consisted of performing a puppet act with an uncooked chicken that danced and laid an egg. Piers Morgan, Sharon Osbourne, and possibly David Hasselhoff all voted "Yes," sending Scott to the Vegas Round.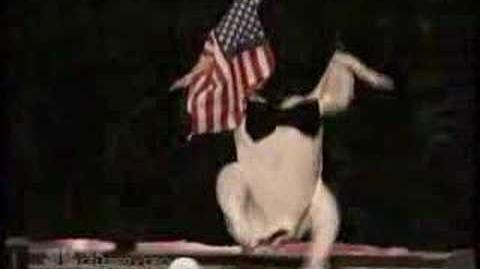 Vegas Round
It is unknown whether or not Scott Land was present during the Vegas Round as he was never seen, but even if he was, he did not advance to the Quarterfinals.
After the Show
Scott Land was one of the YouTube auditionees to enter into Season 5, but was not selected.
External Links