Shimshi was a magician act from Season 3 of America's Got Talent. He was eliminated in the Quarterfinals.
Background
Shimshi was born in Tel-Aviv, Israel. After 7 years of performing Magic in Israel, Shimshi moved to America. Shimshi is currently the resident illusionist for the Wynn Resort and Casino in Las Vegas, Nevada.
Steve Wynn says: "Shimshi is the best" and personally welcomed him to Wynn | Encore since 2009. In 2012, Mr. Wynn had Shimshi create an illusion act for his 100 million dollar featured show, Le Rêve.
Shimshi has performed his corporate show, for many of the top Fortune 500 Companies. He was also privileged to perform at many of Hollywood's biggest celebrity events. Michael Jackson, Muhammad Ali, Robert De Niro, Steven Spielberg, Ryan Seacrest, Usher and Tiger Woods are just a few of the stars that have witnessed Shimshi's magic, as well as The Prince of Saudi Arabia and President Clinton. 1
Audition
Shimshi's audition in Episode 307 consisted of the illusion of him placing his assistant horizontally through three transparent boxes, placing metal sheets into the two slots in between the boxes, thus "slicing" her in three, and then picking the middle box up which contained the assistant's middle body part. David Hasselhoff and at least one other judge voted "Yes", sending Shimshi to the Vegas Round.
Vegas Round
Shimshi was one of the Variety Acts in the Vegas Round. He was sorted into the "Magicians" category. His performance in Episode 308 was not fully televised, but it consisted of creating the illusion of a playing card flying around him. Shimshi's audition was strong enough for the judges to include him in the Top 60 shortlist and to later send him to the Top 40 Quarterfinals in Episode 309.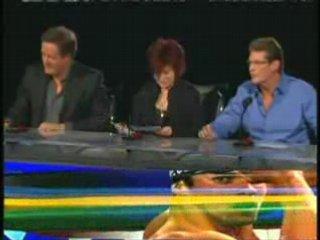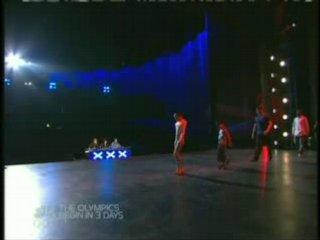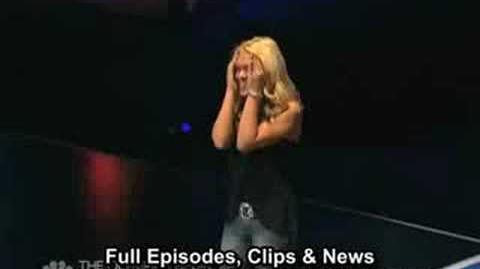 Quarterfinals
Shimshi's Part 1 Quarterfinals performance in Episode 310 consisted of having an audience member pick a card from a deck of playing cards, ripping a corner out of that card, and then kicking a group of cards hanging eight feet so that the ripped card stuck to his foot. Shimshi did not receive enough votes to be sent to the Semifinals, eliminating him from the competition in Episode 311 instead of Jessica Price.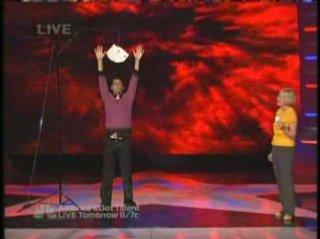 External Links