Skilyr Hicks was a singer and guitarist from Season 8 of America's Got Talent. She was eliminated in the Vegas Round.
Background
Skilyr Hicks is a self-taught guitarist, singer, and songwriter. She is often referred to as an "old soul" for her ability to connect with all audiences. Skilyr had always been creative, but the depth of her creativity wasn't discovered until she was 13 - about a year after the death of her father. An acoustic guitar she had received a few years before made its way back into her arms. That night, she began playing. Three days later, she began writing songs. This time she was not letting go. Within a few months, Skilyr courageously stepped onto a stage and introduced herself as an acoustic singer/songwriter for the very first time.
Her musical journey began in the place she has called home since the age of 7, North Augusta, South Carolina. It wasn't long before social media shares would bring her back to her Ohio roots in order to share her music over the airwaves at 98.3 The Bull. Skilyr's desire to share her gift has placed ther on over 100 platforms within a year. She has performed at nationally recognized Eddie's Attic in Atlanta, where she has opened for artists Lera Lynn, Barnaby Bright, Carrie Rodriquez, and Charlie Mars. She has also been fortunate enough to play at intimate singer/songwriter venues Grocery On Home and Downstairs Live, where she shared the stage with acclaimed artists Emily West, KS Rhodes, and Nathan Angelo.
Skilyr has donated her time to a number of benefits and fundraisers for various organizations such as Relay for Life, The American Heart Association, Honduras mission projects, and school fundraisers. She has also given her support to accident victims and children with rare diseases. Skilyr spends most weekends traveling to her various shows. With the support of her family and community, she is doing what she loves - sharing her music. She attributes her growth as an artist to God, her family, friends, and all who have supported her along the way. Her album "Brand New Day" was released in early 2013 and is now available on iTunes. 1
Audition
Skilyr Hicks's audition in Episode 807 consisted of singing "Brand New Day," an original song, while playing the guitar. Howard Stern, Heidi Klum, Mel B, and Howie Mandel all voted "Yes," sending Skilyr to the Vegas Round.
Vegas Round
Skilyr Hicks was sorted into the "Female Singer" category in the Vegas Round. Her performance in Episode 808 consisted of singing "Second Chance," an original song. Skilyr's performance was not strong enough for the judges to send her to the Quarterfinals in Episode 809.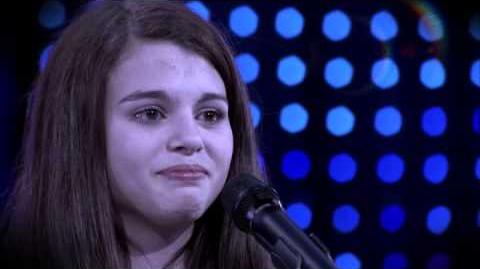 Death
Skilyr Hicks was found dead on December 6th 2021. The cause of her death remains unknown.
External Links