Squonk Opera was a band from Season 6 of America's Got Talent. It was eliminated in the Quarterfinals.
Background
Squonk Opera created our first show in a Pittsburgh junkyard over 20 years ago, with choreographed cranes and roaring earthmovers and screaming machine shears. Composer Jackie Dempsey and artist Steve O'Hearn work with an ensemble of 10-20 artists to create post-industrial performances with original music, design, and staging, outside the rules of mass culture, fashion or academia.
We received our first major commission in 1995 to create Night of The Living Dead: The Opera, from Marc Masterson. During a NYC stint of Bigsmorgasbordwunderwerk in 2000, we were PS 122 critical darlings for 3 months when The New York Times critic Ben Brantley called it "ingenious, hallucinatory, hypnotic" and were painfully transferred to Broadway for 2 months where it received an American Theater Wing Award. Squonk Opera has since created eleven original productions and has performed in more than 250 venues across the United States. Squonkumentary, a film about our time in NYC, was produced by independent filmmaker Peggy Sutton in 2005.
We roll up our sleeves and develop work that attacks and celebrates the idiosyncrasies of our world. Squonk has played on 3 continents and in over 25 states, and we strive to create work that is accessible and transformative. The Buffalo News hailed us as "Rust Belt dada" and the Washington Post described us as "Debussy meets Godzilla," although we suspect that last one may have been an insult. Often overblown, site-specific and participatory, our work was born from Middle America, places where people like their art boisterous and their food greasy. We created work too ambiguous for pop culture, and too easily appreciated for fashionistas to flaunt their sophistications. We were not haute cuisine…we were peasant food that used available ingredients in witty and shameless ways.
We have shared squid for breakfast in Korea, and "ham und kaas" every night in Flanders, and missed meals because we were changing flat tires in Scranton. We have been touring internationally since 2003 – to Scotland, Belgium, Germany and South Korea, where we opened the Busan International Performing Arts Festival. Over 300,000 people have seen us around the world, and reviews include "insane majesty" from The Scotsman, and "…surreal and poetic" from USA Today. We have been fortunate enough to receive 6 grants from the National Endowment for the Arts, as well as support from Doris Duke Charitable Foundation, the Rockefeller Foundation, and the Jim Henson Foundation. We gratefully receive support from the Heinz Endowments, Buhl Foundation, Grable Foundation, Pittsburgh Foundation, Anonymous and others.
We have taught workshops, directed collaborative creations, and done residencies at over sixty universities, middle schools and museums all over the United States, and have worked with dance groups whose styles have ranged from African gumboot to Dutch clogging to hip hop to modern. 1
Audition
Squonk Opera's audition in Episode 607 consisted of the lead singer singing an opera song while riding a metal horse while accompanied by a band. Piers Morgan buzzed the act. At least two judges, almost definitely Sharon and Howie, voted "Yes," sending the act to the Vegas Round.


Vegas Round
Squonk Opera was one of ten acts to advance straight to Hollywood without auditioning in Las Vegas in Episode 611.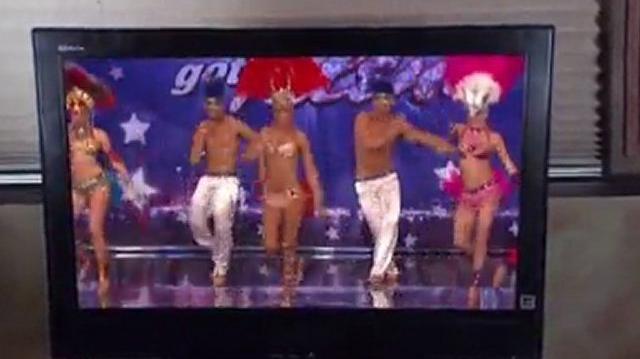 Quarterfinals
Squonk Opera's Quarterfinals performance in Episode 613 consisted of performing "Majesty" an original song and portraying the sun, the moon, and a cherub through "art." Piers Morgan and Sharon Osbourne both buzzed the act. It did not receive enough votes to finish in at least fifth place in America's Vote, eliminating it from the competition in Episode 614 along with J. Chris Newberg, instead of Sandou Trio Russian Bar.
External Links