Swing Shift Side Show

Information
Age (at audition)
30-31
Sex
Mixed
Act
Sideshow Performers
Seasons
5
Position Reached
Quarterfinalist
SwingShift Side Show was a sideshow act from Season 5 of America's Got Talent. It withdrew due to them being unable to attend the Vegas Round, but it returned for the Wild Card show, where it was eliminated.
Background
Andrew S., Kelvikta the Blade, and Jenn O. Cide of Swingshift SideShow bring classic circus entertainment screaming into the 21st Century. Witness ancient and deadly feats of skill, along with jaw dropping original stunts. Record breaking sword swallowing, fire performances like none other, and Mind Over Body demonstrations are just the beginning. 1
Andrew Stanton (AKA: Andrew S.) competed on the short-lived 2008 version of The Gong Show, where he was gonged and eliminated.
Audition
SwingShift Side Show's audition in Episode 501 consisted of dangerous "stunts" such as sword swallowing, eating glass, and drilling through one's nose. Although Sharon Osbourne voted "No," Piers Morgan and Howie Mandel both voted "Yes," sending the group to the Vegas Round.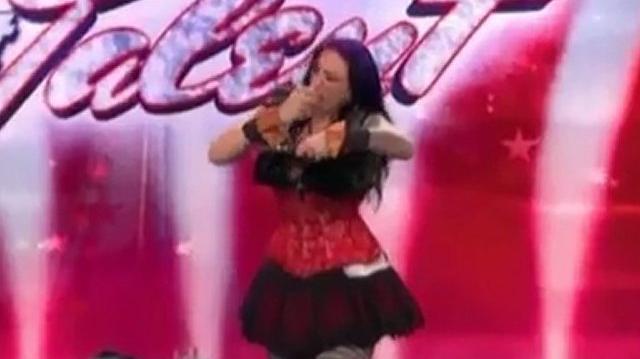 Vegas Round
Swing Shift Side Show Withdrew before the Vegas Round for personal reasons.
Wild Card (Quarterfinals)
Swing Shift Side Show was brought back by Howie Mandel for the Wild Card Show in the Quarterfinals. Its performance in Episode 523 consisted of blowing darts toward balloons and sword swallowing. Piers Morgan and Sharon Osbourne buzzed the act. It did not receive enough votes to finish in at least fifth place in America's Vote, eliminating it from the competition in Episode 524 along with Kruti Dance Academy and Rudi Macaggi, instead of Michael Grasso.
After the Show
Andrew Stanton, AKA: Andrew S. competed on the TBS competition series Go Big Show in 2021 in which he advanced to the finale.
External Links