The All Ways is a pop/rock band act from Season 7 of America's Got Talent. It was eliminated in the Quarterfinals.
Background
The All Ways consists of lead vocalist, Austin Massirman, guitarist, Ron Geffen, bassist, Pat Heraghty and drummer Andre Jevnik. The band formed as a project between Austin Massirman and Ron Geffen. The band recruited more members and released one demo and two EP's, "Hot With Love," and "Relationships." After two years of touring, writing/recording EPs and lineup changes, Pat Heraghty and Andre Jevnik were recruited.
With the new talent and dedication of all members and the release of the new lineup's EP "Chemical Overload" released March 1st, 2012, the band has been making waves. 1
Audition
The All Ways's audition in Episode 710 consisted of singing a rock version of "Rolling in the Deep." Sharon Osbourne and at least one other judge voted "Yes," sending the act to the Vegas Round.
Vegas Round
The All Ways was one of the Standby Acts in the Vegas Round. It was sorted into the "Bands" category. Its performance in Episode 713 consisted of performing a rock version of Christina Aguilera's "Fighter". Its audition was strong enough for the judges to send it to the Quarterfinals along with The Distinguished Men of Brass and Wordspit, the Illest!.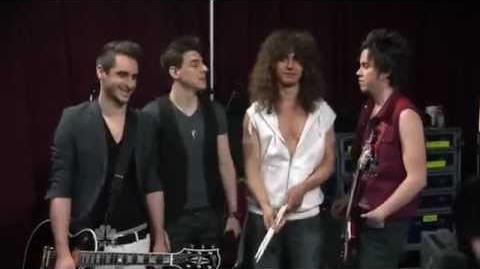 Quarterfinals
The All Ways' Quarterfinals performance in Episode 716 consisted of performing a rock version of "Telephone." The group did not receive enough votes to be sent to the Semifinals in Episode 717, eliminating the group from the competition along with Aurora Light Painters, Big Barry, and Lisa Clark Dancers.
External Links
Season 7 Vegas Round

Uncategorized
Judges' Favorites
Standby Acts
Withdrew
Disqualified
Season 7 Quarterfinals

3 • 4 • 5 • 6 • 7 • 8 • 9 • 10 • 11 • 12 • 13 • 14 • 15 • 16

Week 1
Week 2
Week 3
Week 4
YouTube
Wild Card