The Chippendoubles was an impersonator dance group act from Season 10 of America's Got Talent. They were eliminated in the Judge Cuts.
Background
The Chippendoubles were put together for Britain's Got Talent 2010 to give lookalikes a unique stage performance. The Lookalikes within the group are all professionals and are entertainers in their own right and have extensive experience in the industry. Many of them also posses the similar skills and sound like the Celebrities they portray.
During the audition phase the Chippendoubles were saved for the finale of the entire audition tour at Hammersmith Apollo in London in front of 3500 people. Their applause was second to none receiving a standing ovation for over 5 Minutes. The judges' reaction was one of amazement and after getting their 3 yes's The Lookalikes were approached by the producers of ITV to say that the reaction they received was the biggest they had seen in the history of the program. They became a massive hit on YouTube and bookings came flooding in straight away.
Since leaving the show the act has been very popular entertaining all types of audiences from Butlin's tours to working with 'The Chippendales'. They have added new lookalikes to the act making them very versatile and making sure the act is a surprise every time. [1]
Audition
The Chippendoubles' audition was never televised. A YouTuber posted a video of their audition, from an audience view, consisting of impersonating celebrities such as Tiger Woods, Dog the Bounty Hunter, Alan & Carlos, Kanye West, Jay Z, Howard Stern, and Bono. Howard Stern buzzed the act. Although Howard voted "No," Howie Mandel, Mel B, and Heidi Klum voted "Yes," sending The Chippendoubles to the Judge Cuts round.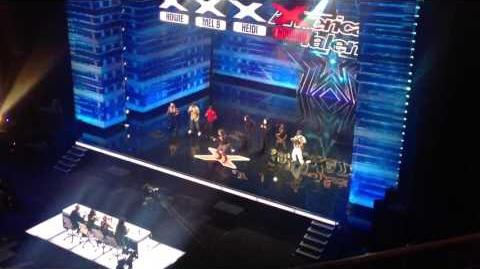 Judge Cuts
The Chippendoubles' Judge Cuts performance in Episode 1009 consisted of performing an act which consisted of cloaked and masked people revealing themselves to be lookalikes of Barack Obama, Michelle Obama, Oprah Winfrey, Kim Kardashian, Kanye West, Lady GaGa, Britney Spears, Katy Perry, and Mariah Carey, and then singing and dancing. Unfortunately, the judges did not recognize most of the impressions, so Howard Stern, Heidi Klum, Mel B, and Howie Mandel all buzzed the act, automatically eliminating The Chippendoubles from the competition. A tenth person impersonating Hugh Hefner was still cloaked and masked by the time the judges buzzed the act out.
Trivia
The Chippendoubles took part on Season 4 of Britain's Got Talent, where they reached the Semifinals. [2]
External Links
Season 10 Judge Cuts

Week 1
Week 2
Week 3
Week 4
Wild Card
Also Moved On
add