The Pendragons

Information
Age (at audition)
54
Sex
Mixed
Act
Magic Duo
Seasons
3
Position Reached
Vegas Round
The Pendragons were a magician duo act from Season 3 of America's Got Talent. The duo was eliminated in the Vegas Round.
Background
When the Pendragons were together, they had been performing together for over 27 years, performing their illusions for audiences that have included the President of the United States, the Queen of England, the Prince of Wales and the Royal Family of Monaco.
The Pendragons were included in the 2005, 50th Anniversary edition of the Guinness Book of World Records for their split-second illusion, Metamorphosis. The Guinness entry reads: The Pendragons perform the fastest transformation illusion in the world. The Pendragons have entertained audiences in theaters and on television in over 50 countries. They have starred in 14 prime time magic specials on NBC, CBS, ABC, FOX, PBS, Disney, Showtime, The Family Channel, VH1, E Entertainment and on CNN's Showbiz Today. They have made more international television appearances than any magician in history. They have made several appearances on The Tonight Show with Jay Leno. They played a prominent role in the three-hour-long PBS special, The Art of Magic.
For PBS television they performed with the Cincinnati Pops Orchestra, presenting illusions to classical music. For Universal Studios they wrote, directed and starred in a special nighttime magical illusion spectacular, Illusions of the Night, which played to more than one million people. The special gained the reputation as Universal's most successful live show ever. 1
Audition
The Pendragons' audition in Episode 302 consisted creating the illusion of Jonathan being locked into a chest, Martha holding a curtain under herself and then appearing to be replaced by Jonathan, and then Martha being revealed to now be in the chest. Piers Morgan, Sharon Osbourne, and David Hasselhoff all voted "Yes", sending the duo to the Vegas Round.

Vegas Round
The Pendragons was one of the Variety Acts in the Vegas Round. The duo was sorted into the "Magicians" category. Its performance in Episode 308 was not televised (it was seen watching its competition). Whether its audition was strong enough for the judges to include it in the Top 60 is unknown, but nevertheless, The Pendragons did not progress to the Top 40 Quarterfinals.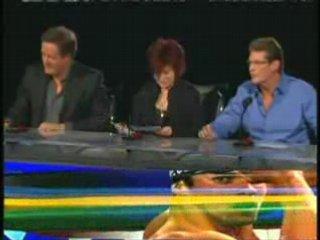 After the Show
On July 8, 2009 Jonathan (as Claude Yarbrough) was arrested at gunpoint for allegedly firing a bullet into the floor of his home during a dispute with his wife, Charlotte. He was later charged with assault with a deadly weapon, spousal abuse, terrorist threats and firing a weapon in an inhabited dwelling. On August 10, 2009, TMZ reported that Pendragon was not able to attend his arraignment since he was confined in a medical facility on involuntary psychiatric hold.
On 23 October 2009 at San Luis Obispo County Superior Court, Judge John Trice ruled that Claude Yarbrough must stand trial on felony charges of assault with a firearm, making criminal threats and other charges. On 9 March 2010, Jonathan pled no contest to two felony counts of assault with a deadly weapon as part of a plea bargain in which other charges were dropped. He was released after serving 245 days in county jail and sentenced to five years of probation.
The couple divorced and both pursued solo careers in magic. 2
External Links
Community content is available under
CC-BY-SA
unless otherwise noted.