The Rhymatist, real name Chris La Vrar, was a rapper from Season 7 of America's Got Talent. He was eliminated in the Vegas Round.
Background
In 1990, La Vrar wrote a song titled "He's Coming Back" for the soundtrack of the movie Repossessed staring Leslie Nielsen. [1] His song won a Golden Raspberry Award for Worst Original Song of that year. [2]
Audition
The Rhymatist's audition in Episode 701 consisted of freestyle rapping a song about the three judges claimed to have been created off the top of his head. Howard Stern, Sharon Osbourne, and Howie Mandel all voted "Yes," sending him to the Vegas Round.
Vegas Round
The Rhymatist was one of the Standby Acts in the Vegas Round. He was sorted into the "Rappers" category. His performance in Episode 713 consisted of rapping about wanting to get sent to New York. His audition was not strong enough for the judges to send him to the Quarterfinals, eliminating him from the competition along with Rob Hayes and Svet.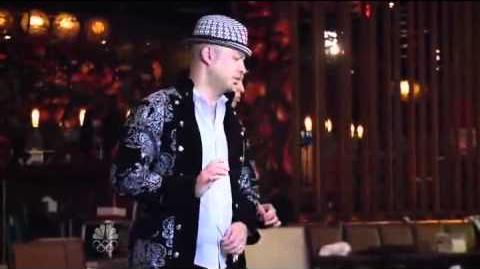 External Links
Season 7 Vegas Round

Uncategorized
Judges' Favorites
Standby Acts
Withdrew
Disqualified