The Robotix

Information
Age (at audition)
9–16
Sex
Mixed
Act
Rock Band
Seasons
8
Position Reached
Quarterfinalist
The Robotix is a rock band act from Season 8 of America's Got Talent. It was eliminated in the Quarterfinals.
Background
The Robotix is a band offering proof that rock 'n roll is still alive. It includes drummer extraordinaire Logan "Robot" Gladden, who has been described by the media as "rock and roll's answer to Justin Bieber"; charismatic singer Angelina Bez from Los Angeles, CA; spirited blues guitarist Brendan James; 12-year-old Japanese guitarist Yuto Miyazawa, who has toured with Ozzy Osbourne and is listed in the Guinness Book of World Records as the Youngest Professional Guitar Player in the World; rock solid lefty bassist Jared Devino; and Dallas guitarist Jon Casel, who also serves as the band's music director.
Collectively the kids have performed live in front of thousands, amassed millions of YouTube views, and been featured on television shows and news programs worldwide (Ellen, Conan, Barney & Friends, and even a nationwide promotional campaign for Chuck E. Cheese restaurants). The band is on a self-proclaimed mission to help preserve rock and roll for future generations – one kid at a time.
The Robotix's debut EP Rock n' Roll, which is produced by drummer Aaron Sterling, includes a mix of original material and a few choice classic rock covers. The EP was released on December 4, 2012, and is currently available on iTunes. 1
Audition
The Robotix's audition was televised in a "Best of the Auditions" episode on July 17, 2013, but not in a regular audition episode. The audition consisted of performing "Heartbreaker." Howard Stern and at least two other judges voted "Yes," sending the act to the Vegas Round.
Vegas Round
The Robotix was one of thirty acts to advance straight to the Quarterfinals in New York without performing in Las Vegas in Episode 808.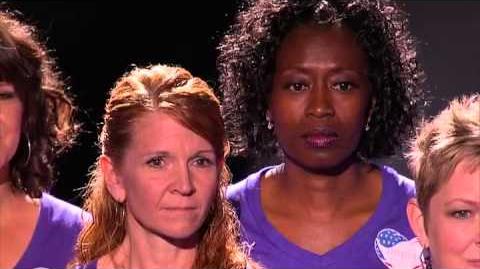 Quarterfinals
The Robotix's Week 4 Quarterfinals performance in Episode 816 consisted of performing its rendition of Black Sabbath's "Paranoid." The Robotix did not receive enough votes to be sent to the Semifinals in Episode 817, eliminating it from the competition along with David Ferman, SensEtion, and Tummy Talk.
Trivia
The Robotix was the only Quarterfinalist sent straight to the Quarterfinals without performing in Las Vegas whose audition was never televised. (It was televised the following night on an auditions recap, however.)
External Links
Season 8 Vegas Round

Immediate Decision
Performed Day 1
Performed Day 2