The Tapping Dads

Information
Age (at audition)
32-56
Sex
Male
Act
Tap Dance Group
Seasons
3
Position Reached
Semifinalist
The Tapping Dads were a tap dance group act from Season 3 of America's Got Talent. They were eliminated in the Semifinals.
Background
The Tapping Dads dance group initially began as a way for fathers to spend time with their daughters who took lessons at Temecula Dance Company for the father-daughter dance at the recitals.
"Over the years a smaller group of dads wanted to do more and that developed into the Tapping Dads," said group member Rod Amstutz of Murrieta. The result was a national championship in Florida and a repeat in Las Vegas in the parent division of the Showbiz Talent National Dance Competition.
Amstutz began in the group in 2003 as a way to spend time with his daughters, Shelby, 11, and Christy, 8, who both take dance lessons. Member Ed Morel runs a youth volleyball program in Temecula, while his wife, Lani, runs the dance studio. He takes pride in representing a group of men who have committed to spending time with their daughters doing something the daughters love to do.
The fathers are from all over Southwest Riverside County and include airline pilots, construction workers and engineers. 1
Audition
The Tapping Dads' audition in Episode 307 consisted of tap dancing as a group to "Come Fly With Me". Piers Morgan buzzed the act. David Hasselhoff and at least one other judge voted "Yes", sending the group to the Vegas Round.
Vegas Round
The Tapping Dads was one of the Variety Acts in the Vegas Round. It was sorted into the "Dance" category. The group's performance in Episode 308 was not fully televised, but it consisted of tap dancing with a movement resembling running. The Tapping Dads' audition was strong enough for the judges to include it in the Top 60 shortlist and to later send it to the Top 40 Quarterfinals in Episode 309.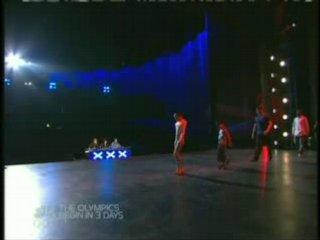 Quarterfinals
The Tapping Dads' Part 4 Quarterfinals performance in Episode 313 consisted of tap dancing as a group to Rufus Wainwright's "Puttin' on the Ritz." Piers Morgan buzzed the act. The Tapping Dads finished in either fifth or sixth place in America's Vote. In the Judges' Choice, although Piers Morgan did not vote for the group, Sharon Osbourne and David Hasselhoff did, sending The Tapping Dads to the Semifinals in Episode 314 instead of Bryan Cheatham.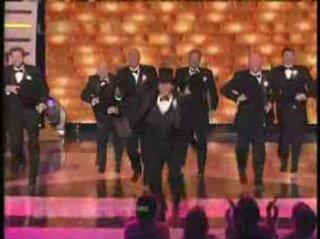 Semifinals
The Tapping Dads' Part 2 Semifinals performance in Episode 315 consisted of tap dancing as a group to "Sing Sing Sing." The Tapping Dads did not receive enough votes to be sent to the Top 10, eliminating the group from the competition in Episode 316 instead of Donald Braswell.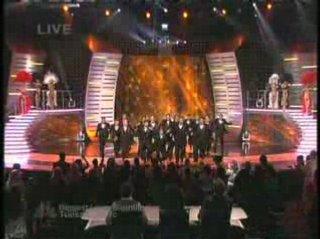 Trivia
External Links