The Willis Clan

Information
Age (at audition)
3-21
Sex
Mixed
Act
Family Band
Seasons
9
Position Reached
Quarterfinalist
The Willis Clan was a family band act from Season 9 of America's Got Talent. It was eliminated in the Quarterfinals.
Background
Toby and Brenda Willis are the parents of the twelve children that make up the Willis Clan. All twelve children's names start with the letter "J". The children have won regional and national dance titles and placed in world competitions for both music and dance. The boys have won state titles in folk style, freestyle, and Greco-Roman wrestling. 1
At their audition, the group consisted of Jessica (21), Jeremiah (20), Jennifer (19), Jeanette (17), Jackson (15), Jedi (14), Jasmine (12), Juliette (10), Jamie (9), Joy Anna (7), Jaeger (4), and Jada (3).
Audition
The Willis Clan's audition in Episode 902 consisted of performing a modernized version of "My Favorite Things." Howard Stern, Heidi Klum, Mel B, and Howie Mandel all voted "Yes," sending the group to Judgment Week.
Judgment Week
The Willis Clan was sorted into the "Music Groups" category in Judgment Week. Its performance in Episode 908 consisted of performing its version of Owl City's "Fireflies." The Willis Clan's performance was strong enough for the judges to send it to the Quarterfinals in the same episode.
Quarterfinals
The Willis Clan's Week 1 Quarterfinals performance in Episode 909 consisted of performing its rendition of Huey Lewis and the News' "The Power of Love." The Willis Clan did not receive enough votes to be sent to the Semifinals, eliminating it from the competition in Episode 910 along with Sean & Luke, instead of Dan Naturman.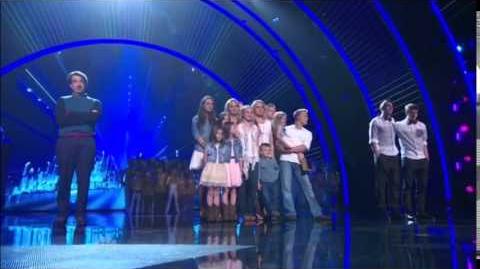 After the Show
After their appearance on America's Got Talent, TLC created a reality show titled The Willis Family that centered on them. It lasted for two seasons, being cancelled after father Toby Willis' arrest for child rape.
External Links
Season 9 Judgment Week

Immediately Moved On
Performed, Day 1
Performed, Day 2
Moved On (Untelevised)
Season 9 Quarterfinals

3 • 4 • 5 • 6 • 7 • 8 • 9 • 10 • 11 • 12 • 13 • 14 • 15 • 16

Week 1
Week 2
Week 3
Week 4
Wild Card