Thoth was a singer and violinist act from Season 2 of America's Got Talent. He was eliminated in the audition round.
Background
S.K. Thoth was born into a musical and medical family. His mother was tympanist for the New York City Opera, and his father was a doctor. He started playing the piano at 7 and the violin at 8. His violin teachers were Mara Dvonch, Harry Glickman, and David Schneider. At 17, S.K. graduated La Guardia High School of Music and Art and moved to San Francisco with his mother who got a job with the San Francisco Symphony Orchestra. S.K. attended San Francisco State University where he majored in music but ended up with a B.A. in Comparative Literature. In 1987, he began busking under the name S.K. Thoth. In 1991, he formed a band called "THOTH" with Michael Chiaravelotti.
With various musicians including Scott Kungha Drengsen, Boris Goldman, and Rhan Wilson, they recorded three CD's. After the band dissolved in 1998, Thoth began performing solo and created an original epic opera, "THE HERMA: The Life and Land of Nular-in" based on a mythical land called the Festad which he has been writing about since a child. In 1999, he moved to NYC where he continued writing and performing the opera at the Bethesda Terrace Arcade, a place he dubbed the Angel Tunnel. He claims that "THE HERMA" is the first new opera of the millennium having been created and recorded from 1999-2002. In 2001, director Sarah Kernochan made a documentary short about his life called "THOTH" which won the 2002 Academy Award.
Thoth likes cooking, dancing, drawing, sculpting digital 3D models, computers, Web design, and he is currently writing a mystery novel based in a music conservatory. 1
Audition
Thoth's audition in Episode 204 consisted of playing the violin and singing in a language he claimed he invented. Piers Morgan and David Hasselhoff buzzed the act. Although Sharon Osbourne voted "Yes," Piers and David both voted "No," eliminating Thoth from the competition.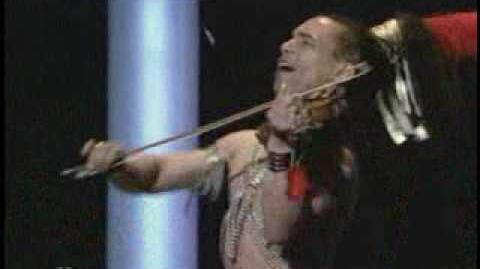 External Links