Top Hogs was a pig act from Season 9 of America's Got Talent. It was eliminated during Judgment Week.
Background
John Vincent has been working with trick pigs for 22 years. He is an aerospace engineer by day, working on the Orion Project for NASA.a
Nestled south of Denver in rolling hills of pine trees, scrub oak and wild flowers, the performing hogs live on a 25 acre ranch with the rest of their animal and human family. Their friends consist of wild pigs, Clydesdale horses, miniature donkeys and cats. Many of the animals were abandoned or even abused before coming to the ranch.
All of the animals live part time in the house. Using a hog door, the pigs split their time between playing outside on the lush, green grass under the tall trees and lounging below the sunny living room windows.
All the animals enjoy two delicious meals a day, which include nutritional, breed-specific chow and fresh fruits and vegetables. They eat healthy to stay in top physical condition. 1
Audition
Top Hogs' audition in Episode 903 consisted of pig Mudslinger performing tricks such as turning a reel to raise the American flag, playing golf, and rolling a soccer ball into a net while weaving through three cones. After the performance, Heidi Klum gave the pig a kiss. Howard Stern, Heidi, Mel B, and Howie Mandel all voted "Yes," sending the act to Judgment Week.
Judgment Week
Top Hogs was sorted into the "Variety Acts" category in Judgment Week. Its performance in Episode 908 consisted of John asking Mudslinger simple arithmetic questions and Mudslinger knocking over cups marked with different sums. Unfortunately, Mudslinger mistook the answer of "2+3" to be "3." Top Hogs' performance was not strong enough for the judges to send it to the Quarterfinals, eliminating it from the competition that same episode.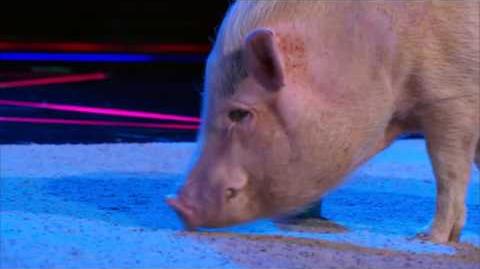 External Links
Season 9 Judgment Week

Immediately Moved On
Performed, Day 1
Performed, Day 2
Moved On (Untelevised)