Trish Paytas was a rapper act from Season 7 of America's Got Talent. She was eliminated in the audition round.
Background
Trisha Paytas was born May 8, 1988 in Riverside, CA. She is an actress, model and youtube personality who currently resides in Hollywood , CA. Notable tv appearances include The Car Show, Tim and Eric Awesome Show, My Strange Addiction, Tyra, Ellen, The Greg Behrendt Show, Who Wants to be a Superhero? Season 2, Supreme Court of Comedy, and Tosh.0 to name a few. One may also recognize her from her numerous music video appearances including Eminem's "We Made You" as Jessica Simpson and Les Savy Fav's "Sleepless in Silverlake" as Marilyn Monroe. She currently models plus size lingerie for both Hips and Curves and Popsi Lingerie. 1
Audition
Trish Paytas's audition in Episode 710 consisted of rapping an original song about watching America's Got Talent at a very fast speed. Howard Stern, Sharon Osbourne, and Howie Mandel all buzzed the act. After the audition, Trish claimed that she only auditioned because she wanted to meet Howard Stern. They subsequently hugged. Although Howard voted "Yes," Sharon and Howie both voted "No," eliminating her from the competition.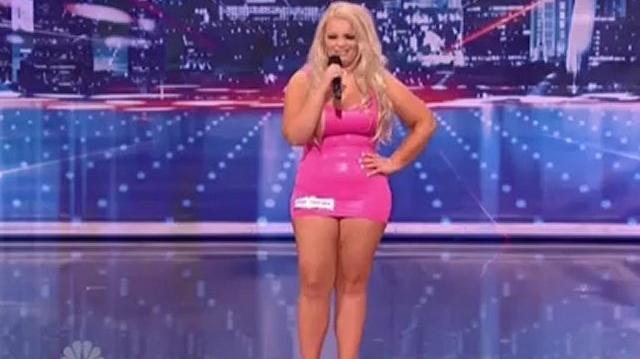 After the Show
Trish Paytas appeared as an imposter (of the inventor of the "selfie stick") on the 2016 revision of To Tell the Truth.
Trish was a contestant on Season 20 of Celebrity Big Brother. She quit the game on Day 11, finishing in 13th place.
Other Appearances
External Links