Tropidanza

Information
Age (at audition)
20-31
Sex
Mixed
Act
Acrobatic Samba Group
Seasons
3
Position Reached
Vegas Round
Tropidanza was a Samba and acrobatic group from Season 3 of America's Got Talent. It was eliminated in the Vegas Round.
Background
Leila Flores, dancer, choreographer, and creator of Tropidanza, has assembled a diverse team of beautiful and talented dancers. She established Tropidanza in 1991 with the inspiration from cultures and dance styles that come from all over the world. 
In 2010, Tropidanza traveled to Hong Kong with 40 performers to participate in the 2010 Chinese New Year Parade and celebration. In 2011, Tropidanza also orchestrated a kick off performance for Van Halen's world tour with 20 Samba dancer and 10 percussionist drumming to "Jump". In Prior years Tropidanza created and developed a group of 20-30 dancers dancing in unison being LA's first large ensemble performing at numerous local Brazilian Carnival events in Hollywood and L.A. Tropidanza has provided Entertainment for many popular Brazilian venues such as Samba Restaurant, Ummba Bar and Grill and Rio Lounge and Grill for many years.
Tropidanza has performed at numerous celebrity events and concerts. Performances include, Wango Tango with Will Smith, Charo, Carlos Santana, Sergio Mendez, The Grateful Dead, MTV Michael Jackson event. Award ceremonies such as The Summit of the Americas, The Diversity awards, The International Film Festival, Charity events for Autism, Disabled children, The Boys and Girls Club and The Andre Sobel River of Life Foundation. Corporate events include Malibu Rum, Chivas Regal, Budweiser, Brahma, BMW, Toyota, Target, Nike and much more. 1
Audition
Tropidanza's audition in Episode 305 consisted of Samba dancing and acrobatic stunts such as backflips on the stage. David Hasselhoff and at least one other judge voted "Yes", sending the group to the Vegas Round.

Vegas Round
Tropidanza was one of the acts that were eliminated without performing in the Vegas Round in Episode 308.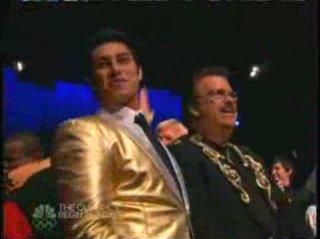 External Links