Twisted Trystan & Krystan

Information
Age (at audition)
23, 27
Sex
Mixed
Act
Sideshow Performers
Seasons
5
Position Reached
Withdrew
Twisted Trystan & Krystan were a sideshow act from Season 5 of America's Got Talent. Although the judges accepted them to the Quarterfinals, they had to drop out for unknown reasons.
Background
Sideshow performers living in Orlando, Florida, Twisted Trystan & Krystan had been engaged for about six months before the audition. The two met at a house party with a group of friends. After Krystan saw Trystan performing a "crazy" trick at the party, she fell in love with him on the spot.
Audition
Twisted Trystan & Krystan's audition in Episode 505 consisted of sword swallowing and "power drill swallowing." Piers Morgan, Sharon Osbourne, and Howie Mandel all voted "Yes," sending the duo to the Vegas Round.
Vegas Round
Twisted Trystan & Krystan were one of the Judge's Favorites in the Vegas Round. They were sorted into the "Danger Acts" category. Their performance in Episode 511 consisted of Krystan striking a nail down through Trystan's tongue with a mallet and Trystan sticking two daggers down his throat simultaneously. Their performance was strong enough for the judges to send them to the Quarterfinals along with The Strong Man.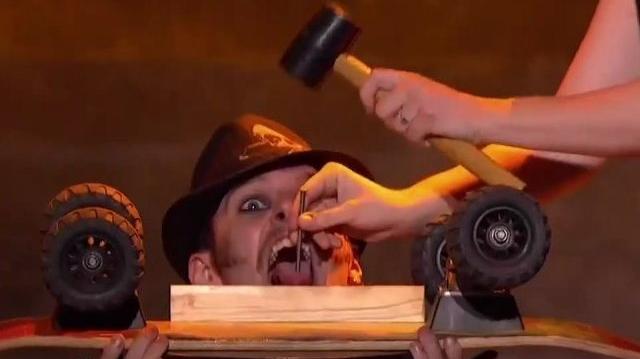 Quarterfinals
For an undisclosed reason, Twisted Trystan & Krystan withdrew from the competition before the Quarterfinals. They were replaced by Nick Pike.
External Links